Aluminum Profile Double Head Cutting saw for Sale
PRODUCT DESCRIPTIONS
1. This aluminum profile double head cutting saw is specially designed for cutting aluminum and uPVC door and window profiles, is the primary cutting equipment for making aluminum doors and windows.
2. The feeding system of the aluminum double head cutting saw adopts a high-quality linear guide rail, with high precision and good stability. The saw blade adopts a high-precision spindle with stable rotation.
3. It can be cut and 45°/ 90° according to different requirements.
4. Pneumatic and hydraulic feed system ensures accurate and stable feed.
5. Carbide saw blade processing precision, high durability.
6. The two cutting units can be used together or separately to efficiently cut the required length and angle.
7. Power supply protects system from voltage overload.
8. Linear rails head movement.
Reasonable design structure and high-quality components ensure the high quality and high efficiency of cutting aluminum window and door profiles. This aluminum profile double head cutting saw allows you to make uPVC & aluminum windows and doors easily and efficiently.
Aluminum profile double head cutting saw operation box and cutting unit
Aluminum profile double head cutting saw positioning and worktable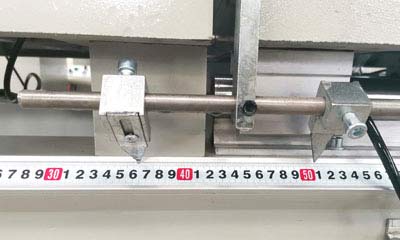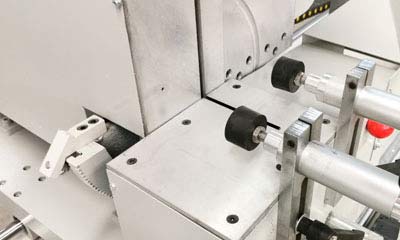 TECHNICAL SPECIFICATIONS
| | |
| --- | --- |
| Input power | 380 V/50 Hz |
| Total power | 2×2.2 Kw |
| Principal axis rotate speed | 2800 r/min |
| Working air pressure | 0.5~0.7 MPa |
| Diameter of blade | 450 mm |
| Cutting height | 45°max×200 mm,90°max×300 mm |
| Dimensions:(Width×Depth×Height) | 5100×1300×1900 mm |
| Weight when empty | 850 Kg |
| Feeding speed | 0~3 m/min |
| Cutting length | 420~4200 mm |
| Cutting angle | 45°,90° |