types of pvc and aluminum window
TYPES of PVC & ALUMINUM WINDOWS
Different window types need to choose different window profiles and related window processing machines. Among them, casement windows and sliding windows are the most used. For detailed information, please refer to the profile supplier technical parameters and China PVC & aluminum window machine suppliers. Choose the right window type and profiles to save your money and bring a good decoration effect. Choose reasonable window making equipment for your factory, and make money with less investment.
1 FIXED WINDOWS
Fixed windows cannot be opened, there is no sash, and only glass can be fixed on the window frame. It is usually used on occasions where only lighting is considered and ventilation is not considered. Because the window sash is fixed, the glass area is large. The production is simple, generally, it can be produced with a double-head cutting saw and an aluminum corner crimping machine or double head PVC welding machine.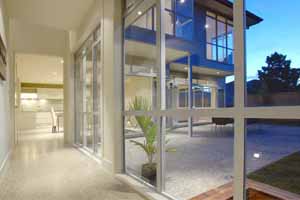 2 SLIDING WINDOWS
It is easy to use, safe, reliable and has a long service life. It does not occupy indoor space when it is turned on. It can be opened in a plane for easy installation and use of screens and curtains. Sliding windows have the advantage of not occupying indoor space. Large glass sliding windows can increase indoor lighting, but the ventilation area is only half of that of casement windows. The sliding window has poor airtightness. Simple production can be made by PVC & aluminum window machines.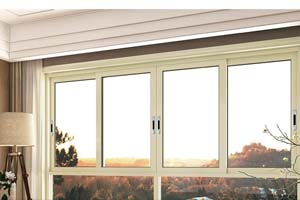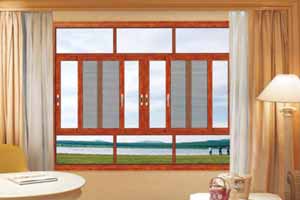 3 SIDE-HUNG/CASEMENT WINDOWS
Casement windows or side hung windows are a traditional window type, including inward opening and outward opening style. The inward opening mode is convenient for cleaning windows, but it occupies indoor space when opened, and the sash that opens outwards has a good waterproof performance. It does not occupy indoor space when opened and requires higher hardware strength. The casement window has good sealing performance, the window sash can be fully opened, which is convenient for ventilation, has good sealing performance, and has excellent sound insulation, heat preservation, and impermeability.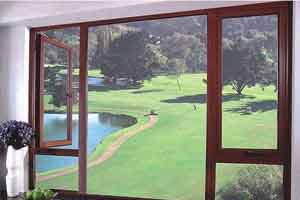 4 AWNING WINDOWS
The awning window is a horizontally suspended casement window, hinged on the top, and rotating at the top to make it swing outward or inward like an awning. It can be used alone or in combination with other window types, and they are particularly useful for ventilation. When the top-turn window is used in a high place, it can be equipped with electric window hardware to automatically control the opening and opening angle. When equipped with a rain sensor device, it will automatically close when rain enters. When the smoke sensor is configured, it can be turned on automatically.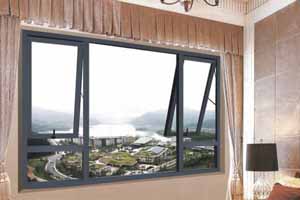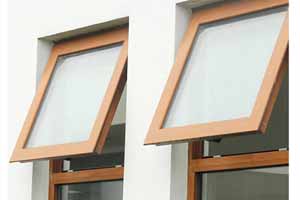 5 TILT & TURN WINDOWS
It can be opened in two ways, either horizontally or inverted (the upper part of the window sash is inclined inward). When inverted, a gap of about 15 cm can be opened, and the opened part can be suspended in the air and fixed with the window frame through hinges. Good ventilation, anti-theft, and rain-proof. There are PVC and aluminum alloy profiles, which need to be made by PVC window machines and aluminum window machines respectively.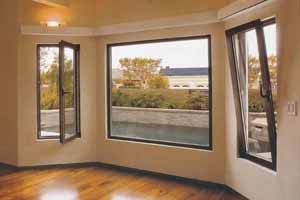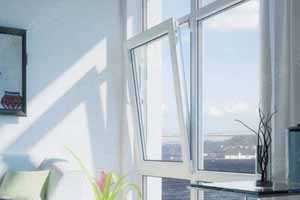 6 LIFTING WINDOWS
The lifting window consists of a fixed window frame, an inner window sash, an outer window sash, and screw-type balancing accessories that can slide up and down. It has good sealing and heat insulation properties. When the lifting window sash is opened and closed, it is light, flexible, and labor-saving. The window sash can stay in any position. There are two types of profiles: PVC and aluminum.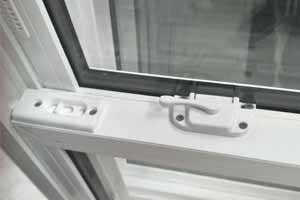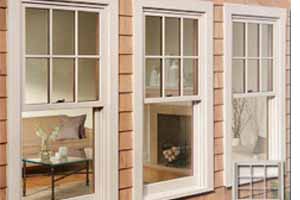 7 Mid-HUNG WINDOWS
The middle-hung window refers to a window in which the window axis is installed in the middle of the left and right side sashes and rotates along the horizontal axis. Usually, the upper half of the fan opens indoors and the lower half of the fan opens outdoors. It is often used as stairs, high windows in walkways, bright windows on doors, and side windows or transoms in industrial buildings. The middle-hung window glass has little loss and rainwater is not easy to drift in.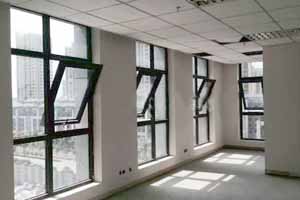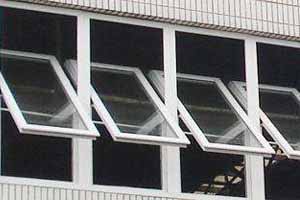 8 FOLDING WINDOWS
Folding windows can be opened by folding, will not affect the effect of indoor lighting and ventilation, and do not take up space. Folding windows can be moved to the side. They have excellent thermal insulation, heat insulation, moisture resistance, and sound insulation. The role of noise reduction. Special aluminum profiles and aluminum folding window processing machines are required.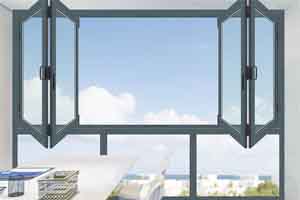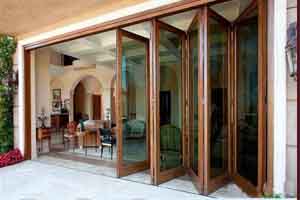 9 SKLIGHTS
Skylights are generally used on the roof for lighting and ventilation. There are top opening and translation types, and they are generally controlled by electric power. The roof ventilation skylight has the functions of ventilation, lighting, and smoke exhaust. The ventilation flow is sufficient, rain and snow are protected, and it can be ventilated naturally without electricity. Opening a large area of skylights to the attic room will improve the depressing feeling of the attic because of the small space. Skylights are generally made of aluminum profiles and aluminum window making machines.