DX02 End Milling Machine for Aluminum Profiles
DESCRIPTIONS
1. This end milling machine for aluminum profiles is used for milling the end tips of the profiles that will be joined with the sides of other profiles to form a multiple-segmented window frame.
2. Mill the end of the surface and process the stepped joint.
3. This milling machine can process different structures with stair surfaces, rectangular slots and tenons, and so on.
4. The height of the end milling machine for the aluminum profiles worktable is adjustable.
5. The milling cutter of this end milling machine for aluminum profiles needs to be customized according to your aluminum profiles.
6. Pneumatic in feeding smoothly, the milling speed linearity adjustable.
7. Can mill any angle between 35 degrees and 90 degrees of the aluminum profiles.
End milling machine for aluminum profiles operation button and feeding system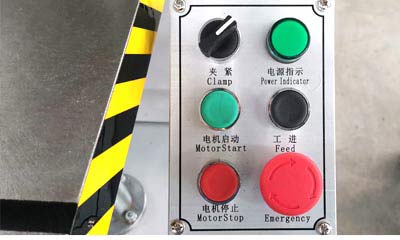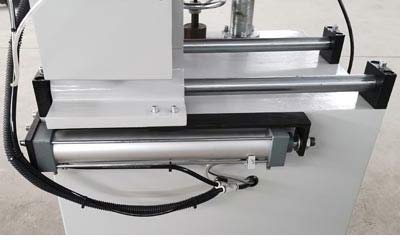 End milling machine milling cutter should be customized according to the aluminum profiles as shown below.

MAHCINE SPECIFICATIONS
| | |
| --- | --- |
| Power supply | 380V/50Hz |
| Input power | 1.5Kw |
| Dimensions:(Width×Depth×Height) | 850×750×1300mm |
| Weight when empty | 200Kg |
| Air pressure | 0.5~0.8MPa |
| Air consumption | 10L/min |
| Main-shaft Revolution | 2800r/mm |
| Max Processing Height | 100mm |
| Diameter of milling cutter | ∮115~∮200mm |