uPVC Window Profile

Single

Head Cutting Saw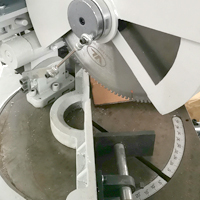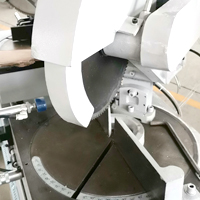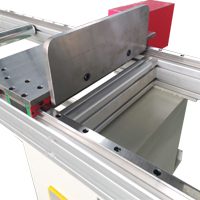 Product description
1. This PVC single-head cutting saw is specially designed for cutting 45°~90°PVC and aluminum profiles. It can also cut any angle. It is necessary equipment for making pvc & aluminum doors and windows, sliding doors, and home decoration.
2. This upvc cutting machine can be operated pneumatically or manually.
3. The saw head adopts turntable rotation positioning technology, which makes the cutting angle adjustment convenient and quick.
4. Pneumatic clamping in the vertical and horizontal directions at the same time to ensure that the profile is stable during cutting.
5. The left side of the single head cutting saw adopts a CNC control positioning system, the cutting size positioning is fast and accurate, and multiple sets of cutting data can be input at the same time, and the right side is equipped with a file supporting frame.
6. The saw head carries on the fixed axis cycloidal feed on the vertical side of the worktable, and the cutting operation is stable and reliable.
Technical specifications

| | |
| --- | --- |
| Power supply | 380V/50Hz |
| Power output | 1.1Kw |
| Motor rotary speed | 3200r/min |
| Dimensions:(Width×Depth×Height) | 6800×650×1450mm |
| Weight when empty | 350Kg |
| Air pressure | 0.5~0.8MPa |
| Air consumption | 50L/min |
| Saw blade diameter | ∮350mm×∮30mm |
| Cutting height | 200mm |
| Cutting width | 100mm |
| Cutting length | 400~3500mm |
*All specifications, dimensions, and design characteristics are shown in this CNC positioning single head cutting saw are subject to change without notice.
YOU MAY ALSO LIKE:
PVC Window CNC Double Head Cutting Saw machine
uPVC Window Glazing Bead Cutting Saw