UPVC Profile CNC Double Head Cutting Machine China PVC CNC Double Cutting Head Saw Machine Supplier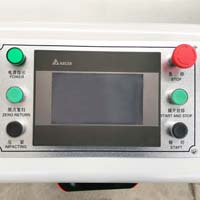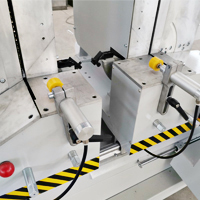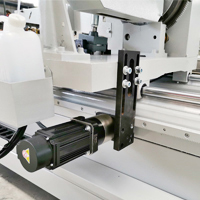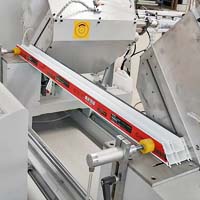 Product description
1. This CNC double head cutting-off machine is mainly used for cutting uPVC and aluminum window profiles. CNC control systems, reasonable design structure, and high-quality components ensure the high quality and high efficiency of cutting pvc Windows and doors profiles, is the ideal pvc window profile double saw cutting machine for making pvc Windows. This machine allows you to make uPVC & aluminum Windows and doors easily and efficiently.
2. The double head CNC profile cutting machine feeding system adopts linear guide pair, with high accuracy and stability.
3. Adopts CNC control system, automatic positioning of cutting size and angle, easy operation, and precise cutting.
4. The PVC mitre saw blade of the cutting saw rotates smoothly due to high accuracy spindle.
5. Middle auto-induction profile supporter and following profile supporter make the loading and clamping convenient.
6. Two heads of the CNC saw cutting machine can work together or single, when together work, can cut off the required length and angle at one time.
7. Power supply protects system from voltage overload.

Technical specifications
| | |
| --- | --- |
| Input power | 380V/50Hz |
| Total power | 2×1.5Kw |
| Spindle speed | 2800r/min |
| Working air pressure | 0.5~0.7MPa |
| Diameter of blade | 450mm |
| Dimensions:(Width×Depth×Height) | 5100×1300×1900mm |
| Machine weight | 850Kg |
| Feeding speed | 0~3m/min |
| Cutting length | 420~3700mm |
| Cutting angle | 45°,90° |
| Cutting height | 45°max×200mm,90°max×300mm |
*All specifications, dimensions, and design characteristics are shown in this CNC double head PVC cutting-off machine are subject to change without notice.
YOU MAY ALSO LIKE:

uPVC Window Double Head Seamless Welding Machine