SYJ03-1800 uPVC Window Glazing Bead Cutting Machine, Glazing Bead Cutting Saw Manufacturers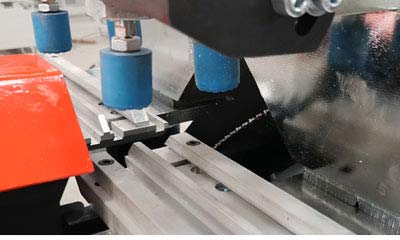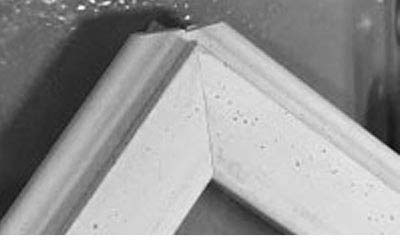 PRODUCT DESCRIPTIONS
1. The uPVC window glazing bead cutting machine uses two saw blades to cut at 45 degrees at the same time, and can
cut two beads
at one time.
It is a necessary

pvc window machine

for pvc window assembly glass process.
2. Equipped with two switch buttons. Press one of them to clamp the profile, while pressing the two buttons at the same time, the equipment will run the glazing bead cutting process to ensure safe hand operation.
3. The uPVC bead profile is clamped by four vertical cylinders.
4. This uPVC window glazing bead cutting machine is equipped with a locking device, the cutting depth can be positioned by adjusting the height of the saw worktable.
5. According to the chemical properties of the PVC bead profile, the cutting speed of the glass glazing machine can be adjusted.
6. Need to make backing plates according to different bead profiles.
How to use this uPVC window glazing bead cutting machine?
CUTTING PROCESS

:
After the PVC glazing bead profile is placed on the worktable of the glazing bead cutting machine, press and hold a button by hand and not release it to clamp the glazing bead, and then press another button to start the PVC bead cutting process, release both buttons at the same time, the saw blades back to the galzing bead cutting machine original position.
TECHNICAL SPECIFICATIONS
| | |
| --- | --- |
| power supply | 380V/50Hz |
| Input power | 2.2Kw |
| Motor rotary speed | 2800r/min |
| Dimensions:(Width×Depth×Height) | 560×1260×1350mm |
| Weight when empty | 200Kg |
| Air pressure | 0.5~0.8MPa |
| Air consumption | 20L/min |
| Cutting height | 33mm |
| Cutting length | 320~1800mm |