UPVC Window Mullion Profile Cutting Machine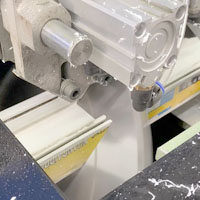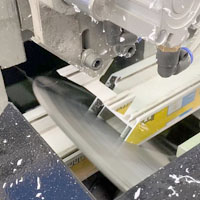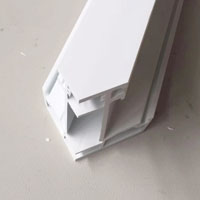 Product description
1. The automatic PVC profile mullion cutting-off machine is the necessary pvc window processing equipment to make uPVC windows with mullion frames, with simple operation, convenient adjustment, and high production efficiency.
2. This PVC mullion profile cutting machine is equipped with two saw blades, which can automatically complete the cutting of mullion profiles at one time, with high production efficiency. The size is accurate.
3. Use vertical and horizontal pneumatic clamping to ensure that the profile does not move when cutting.
4. The cutting depth can be adjusted according to the width of the profile to ensure that the cutting center is symmetrical. The feed speed of the saw blade can be adjusted according to the chemical characteristics of the mullion profile.
5. Equipped with a special clamping device to clamp the upper triangular profile after cutting to ensure safe operation.



Technical specifications
| | |
| --- | --- |
| Power supply | 380V/50Hz |
| Input power | 2.2Kw |
| Motor rotary speed | 2800r/min |
| Dimensions:(Width×Depth×Height) | 1100×1720×1390mm |
| Weight when empty | 300Kg |
| Air pressure | 0.5~0.8MPa |
| Air consumption | 20L/min |
| Cutting height | 90mm |
| Cutting length | 350~2100mm |
*All specifications, dimensions, and design characteristics are shown in this PVC mullion profile cutting machine are subject to change without notice.
YOU MAY ALSO LIKE:
UPVC Windows and doors Double Head Mitre Saw
uPVC Window Two Head Seamless Welding Machine
Automatic Three Axis Water Slot Drilling Machine