uPVC Profile Double Head Mitre Saw



PRODUCT DESCRIPTIONS
1. This uPVC profile double head mitre saw SJ02-3500 is specially designed for cutting 45°~90° PVC and aluminum window profiles. Other angles can also be cut according to the requirements of the window.
2. The cutting limit of this uPVC double head mitre saw is adjustable.
3. The two heads adopt turntable positioning technology with high cutting precision.
4. Use vertical and horizontal pneumatic clamping at the same time to ensure stable profile fixation.
5. The left saw head is fixed, and the right saw head can move left and right according to the cutting length.
6. The additional equal length intermediate support mechanism is convenient for feeding and positioning.
7. The saw head performs fixed axis cycloidal feed on the vertical side of the worktable, and the cutting operation of the double head cutting machinery is stable and reliable.
8. The right head of this uPVC profile double head mitre saw adopts two linear guide rails to move left and right, running smoothly and accurately.
9. Protect system for voltage overload.
TECHNICAL SPECIFICATIONS
| | |
| --- | --- |
| Power supply | 380V/50Hz |
| Power output | 2*1.1Kw |
| Motor rotary speed | 3200r/min |
| Dimensions:(Width×Depth×Height) | 4000×650×1450mm |
| Weight when empty | 500Kg |
| Air pressure | 0.5~0.8MPa |
| Air consumption | 100L/min |
| Saw blade diameter | ∮350mm×∮30mm |
| Cutting height | 200mm |
| Cutting width | 100mm |
| Cutting length | 450~3500mm |
Configuration recommendations
The left side of the double-head mitre saw machine can be equipped with a CNC positioning system.
1.The CNC sizing system adopt double linear guide rails, fast and accurate positioning, can input multiple sets of cutting size at the same time.
2 When the CNC positioning ruler is selected, this double-head PVC mitre saw can cut two pieces of different length materials at the same time when cutting 90-degree materials, and the cutting efficiency is doubled.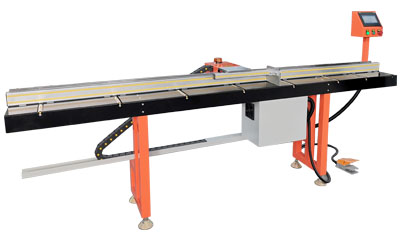 YOU MAY ALSO LIKE:
PVC Window CNC Double Head Cutting Saw machine
uPVC Window Glazing Bead Cutting Saw