PVC Window CNC Double Head Cutting Machine for Sale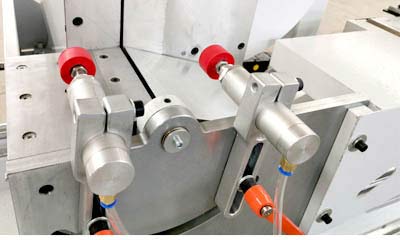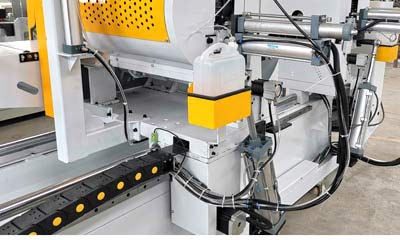 PRODUCT DESCRIPTIONS
l This PVC window CNC double-head cutting machine is specially designed for cutting aluminum and uPVC door and window profiles. The machine is simple to operate, reliable in performance, advanced in technology, easy to repair and maintain, and is mainly used for cutting and processing of aluminum, PVC, curtain wall and other profiles. High cutting speed, high machining accuracy and high production efficiency, is the critical PVC & aluminum window manufacturing equipment. This machine is the ideal window machine for cutting aluminium and PVC bars in various thicknesses and at different angles.
l The bed of the CNC double head cutting machine is equipped with two cutting units. The left is fixed, and the right unit is movable. The feeding system adopts high-quality linear guides with high accuracy and good stability.
l This CNC double head cutting machine blade for PVC adopts a high-precision spindle with stable rotation.
l The cutting machine can automatically cut and replace at 45°, 135° and 90° according to the different requirements of PVC window production.
l The profile cutting is completed by the work-in (gas-liquid damping) cylinder. Its pneumatic control system has the function of steeples speed regulation. According to the processing needs, the feed and return speed can be adjusted to make it slow The function of rapid feed and rapid return.
l Carbide saw blades ensure machining accuracy and high durability.
l Voltage overload protection system.

l The two cutting units of the PVC window double head cutting machine can be used together or separately to effectively cut the required length and angle.
l Linear rails head movement.
TECHNICAL SPECIFICATIONS
| | |
| --- | --- |
| Power supply | 380V/50Hz |
| Motor Power | 2×2.2Kw |
| Air pressure | 0.5~0.8MPa |
| Air consumption | 80L/min |
| Diameter of blade | ∮500×∮30×4.4mm z=120 |
| Principal axis rotate speed | 3200r/min |
| Feeding speed | 0~3m/min |
| Cutting length | 420~4200mm |
| Cutting angle | -45°,135°,90° |
| Dimensions:(Width×Depth×Height) | 6100×1300×1650mm |
| Machine weight | 1300Kg |