Four-Head PVC Welding Machine For uPVC Window and Door
Product description
1.This Four-Head PVC Window Welding Machine is controlled by the PLC and the touch screen of the station movement unit, high stability, It is a very important machine for making pvc windows.
2.The lower press clamp of this PVC 4-head welder is designed for precision square guide movement to ensure smooth running and perfect welding effect.
3.The positioning of the PVC welder under the positioning of precision rail movement, to ensure the positioning accuracy of high dimensional stability.
4.The welder holder is designed for high precision and quick change type mechanical structure, and it is very convenient to use.
5.The local pressure clamp body for the aluminum alloy CNC machining center by a molding, high precision, can greatly improve the surface of the welding profile smooth.
6.The 4-head welder can be customized according to customer profiles of high standards dedicated board, greatly improving the size of welding and shear roughness.
7.The machine is equipped with a unique head locking mechanism, tight locking effect, long-term use will not be damaged.
8. One of the heads of this four head PVC welding machine has the function of welding at any angle, to meet the user's welding arc window and other special-shaped doors and windows requirements

9. In order to ensure the accuracy of the mullion corner welding, it is necessary to use a V cutting sawing machine and a PVC mullion profile cutting machine to cut the pvc window profile.
10. Various PVC window corner shapes such as┎ ┓┳┏┓┏┳ ┏┳┓ ┏┳┳┓, can be welded in one operation with this four-head pvc welder.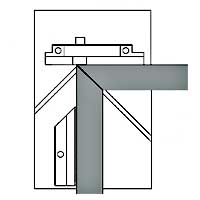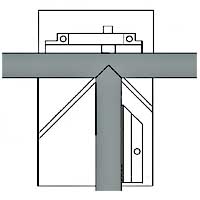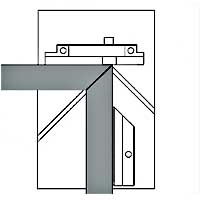 Technical specifications
| | |
| --- | --- |
| Power supply | 380V/50Hz or customer specification |
| Input power | 4.5Kw |
| Dimensions:(Width×Depth×Height) | 5300×1200×2000mm |
| Weight when empty | 1700Kg |
| Air pressure | 0.5~0.8MPa |
| Air consumption | 150L/min |
| Welding width(max) | 120mm |
| Welding height | 20~120mm |
| Welding range | 450~4500mm |
*All specifications, dimensions, and design characteristics are shown in this four-head PVC welder are subject to change without notice


YOU MAY ALSO LIKE:
Digital Display Double Head Sawing Machine for uPVC profile

Double Head Mitre Saw For uPVC Profile
Automatic Three Head Water Slot Drilling Machine