Aluminium CNC Milling and Drilling Machine Center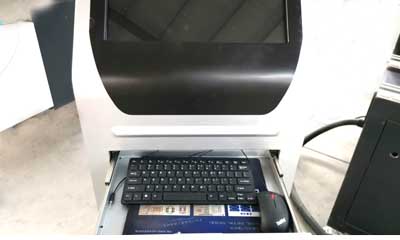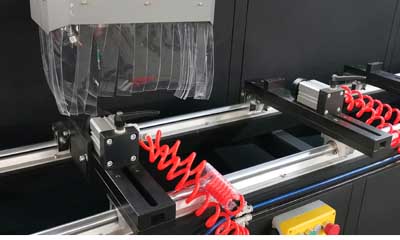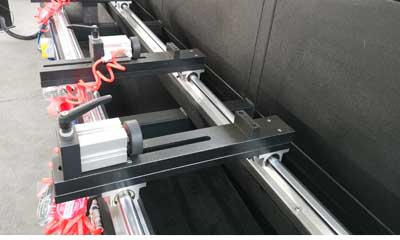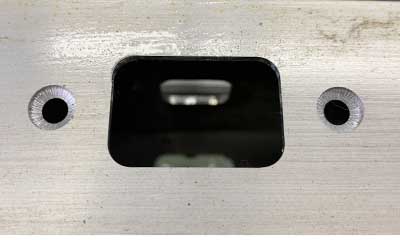 ALUMINUM MACHINING CERTERS DESCRIPTIONS
1 This CNC aluminium drilling and milling machine is suitable for processing various installation holes, door lock holes, slots, and other grooves on various profiles. It can process aluminum window profiles, non-ferrous metals, track structures, PVC window profiles, etc., automatic complete multi-hole drilling and milling process in one clamping, accurate milling positions of the lock holes, high-speed drilling and milling, and high aluminum hole processing efficiency.
2 The traveling structure of the aluminum CNC machining certers head in the X/Y/Z direction adopts linear guide motion pair, ball screw, rack, and pinion, etc., and the hole drilling spindle power adopts servo motor, which has high positioning accuracy and good stability.
3 The head of this three-axis CNC drilling and milling machine is equipped with two spindle high-speed motors, which can be equipped with drills of different specifications, and one or two spindles can be selected when programming the program according to the processing requirements of the aluminum profile hole. Different types of holes can be milled, avoiding tool changes.
4 The profile clamping device can be adjusted on the linear guide to suit different specifications of window profiles.
5 The drills are equipped with an atomization device to extend the life of the drills and the door lock hole machined surface is smooth and clean.
6 Using the prepared processing program and inputting data according to the processing specifications of the holes, the drilling and milling of all the holes of an aluminum profile surface can be automatically completed, and the operation screen can be visualized.
This aluminum CNC machining center made in China have a high door lock hole processing efficiency. The position and size of the processing holes are accurate. It can replace the aluminum copy router machine, lock hole drilling machine, and is an essential aluminum window manufacturing machine for antomatic making aluminum doors and windows.
ALUMINUM MACHINING CENTERS SPECIFICATIONS
| | |
| --- | --- |
| Power supply | 380V/50Hz |
| Input power | 8Kw |
| Dimensions:(Width×Depth×Height) | 4250×1500×1850mm |
| Weight when empty | 1300Kg |
| Air pressure | 0.5~0.8MPa |
| Air consumption | 20L/min |
| Milling range | 3500×400×350mm |
| Spindle speed | 0~18000r/min |
| Spindle power | 3.5KW |
| Drill diameter | 5/8mm |
| X-axes travel | 3500mm |
| X-speed | 0~60m/min |
| Y-axes travel | 400mm |
| Y-speed | 0~30m/min |
| Z-axes travel | 200mm |
| Z-speed | 0~30m/min |